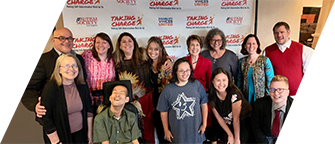 Disability Voices United needs your support to continue our important work to advocate for the rights of people with developmental and other disabilities. With virtually no overhead, every dollar you give goes straight to our programs, trainings, and advocacy for choice, equity, accountability, and meaningful outcomes.
Thank You Gifts for Donors
For the first time, Disability Voices United is pleased to offer thank-you gifts for your generous support at higher levels of giving.  (Our donor levels are named after the five principles of self-determination, of course!)
Freedom – $100
DVU-branded face mask
Authority – $250
DVU-branded face mask
DVU T-shirt (We will reach out to determine size and style)
Support – $500
DVU-branded face mask
DVU T-shirt
Copies of all three of DVU's books: Thinking Outside the Box: Resources on California's Self-Determination Program, Profiles in Self-Determination, and With Support and Without the Courts: Supported Decision-Making Handbook for Parents.
Responsibility – $1000
All the gifts above, plus acknowledgement in a special edition of our DVU Newsletter, and two registrations to our self-determination conference.
Confirmation – $2500
All the gifts above, plus acknowledgement in the DVU Newsletter, two registrations to our self-determination conference, and acknowledgement in the program for our 2021 virtual self-determination conference.  

Yes, I want to support Disability Voices United!

If you wish to donate by check, please make it out
to "Disability Voices United" and send to:
Disability Voices United
1230 Rosecrans Ave, Suite 650
Manhattan Beach, CA 90266

All donations to Disability Voices United, which is a 501(c)(3) organization, are tax-deductible to the full extent of the law. Tax ID# 82-1243094
Using Amazon Smile to Donate to DVU
Did you know there's a way to combine giving to friends and family, and giving to the developmental disability advocacy community at the same time?
If you're doing some shopping on Amazon, consider using Amazon Smile. When you shop at Amazon Smile instead of the main Amazon site, .5% of your eligible purchases are donated to a charity of your choice. DVU is registered as an Amazon Smile charity. Every little bit helps us advocate for choice and control, meaningful outcomes, and equitable systems.
If you'd like to give to DVU through Amazon Smile as part of your holiday shopping, here's how!
1.) Go to www.smile.amazon.com. You may be prompted to log in. If you are, use the email & password for your Amazon account.
2.) You'll be directed to a page that says "Select an Organization to Start Shopping" at the top. Look for the search box below the phrase "Or pick your own organization."
3.) Type in "Disability Voices United" to that search box, and hit "search." DVU should be the first organization on the next page. We're the Disability Voices United located in Manhattan Beach.
If you're already using Amazon Smile but would like to switch your charity to DVU, just go to smile.amazon.com like normal. Under the search box, there's a little orange text that says: "Supporting" and the name of whatever charity you have selected. Hit the small drop-down arrow next to your charity name. An information window pops up with the name of your charity, and the word "change" next to it. From there, it's just like the steps above: search for Disability Voices United, and select us.