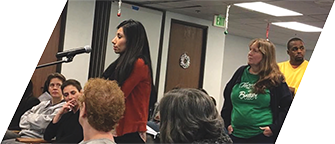 Disability Voices United Ambassadors
Disability Voices United is fueled by a network of representatives called Ambassadors comprised of clients and family members at each of the 21 Regional Centers throughout California. The Ambassadors serve as our "eyes, ears and voices" and play a vital role in our advocacy efforts statewide.
The Role of the Ambassadors
As our "eyes," the Ambassadors will monitor activities of their regional centers by reviewing all materials from the regional centers including: board of directors agendas, materials, and minutes, contracts with DDS, performance plans and reports, annual reports, annual audits, demographic data, consumer expenditures, disparity data, plans to reduce disparities, vendor contracts, 990 forms, board of directors diversity data, and other relevant materials.
As our "ears," the Ambassadors will listen to the concerns of individuals served by their regional centers and their families. They will attend and listen to discussions at boards of directors and committee meetings, disparity meetings, and other public meetings held by the regional centers. In addition, the Ambassadors will attend support groups and gatherings of community organizations to hear about other concerns of individuals and families.
As our "voices," the Ambassadors will speak out on key issues of concern from the community and on priorities of the statewide organization. In addition, the Ambassadors, in cooperation with the Disability Voices United board of directors and statewide committees, will train community members to advocate for systemic changes at their regional centers.

Who are the Ambassadors of Disability Voices United?
The Ambassadors are all individuals served by regional centers or their family members. They regularly report back to the Disability Voices United Board of Directors and participate in statewide calls to share observations and trends. The Ambassadors will have access to a wide array of resources and support, including training opportunities, from the organization. We will enlist multiple Ambassadors for each Regional Center catchment area so that they can work together and share responsibilities for attending and reporting on meetings. Ambassadors will reveal any financial or loyalty conflicts of interest they may have, which may include receiving a salary or other compensation from a regional center or vendor or serving on a regional center board of directors or committee.