The Self-Advocates Speakers Bureau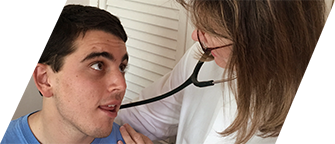 Introducing the Self-Advocates Speakers Bureau
When we talk about disability, why don't we listen to the experts – people with disabilities? Policy experts, educators, and healthcare providers speak for us, and about us, all the time. It's time for us to tell our own stories. That's the idea behind the Self-Advocates Speakers Bureau!
If you want to use your story to build up a disability rights movement in California, then we want you in the Disability Voices United Speaker's Bureau! Together, we can change the stories we tell about disability. And if we change those stories, we can change the world.
What is the Self-Advocates Speakers Bureau?
The Self-Advocates Speaker's Bureau is a group of Californians with disabilities who are changing the world by changing the narrative around disability! Speakers Bureau members are subject matter experts in their own experiences. These experts can speak to the intersection of disability and…
Communication access

Healthcare

Legislation and policy

…. and much more!
In other words, any time there is a discussion about disability, it's important to talk to a member of the Self-Advocates Speaker's Bureau!
The Speaker's Bureau is made possible by grants from Ability Central Philanthropy and the WITH Foundation.
Who can be part of the Speakers Bureau?
To join the Speaker's Bureau, you must be a California resident with a disability age 18 or older. You also have to complete a virtual training program.
Successfully completing the training program qualifies you to apply for the Speaker's Bureau. If you are selected, you will be listed on the Speakers Bureau website where people who need expert speakers on disability rights and justice will be able to find you. You'll also have access to a mentor who can help you find speaking opportunities.
What is covered in the training sessions?
You will be trained on:
Knowing your audience

Building a compelling message

Networking with others

…and much more!
You will receive $25 for each session you complete.
When are the virtual training sessions?
Wednesday June 14, 2023, 1-2:30pm

Wednesday June 28, 2023,  1-2:30pm

Wednesday July 12, 2023, 1-2:30pm
We will also ask you to look at some additional materials, like short videos and handouts, in between sessions. 
When and where are the optional in-person training sessions?
We will be holding an optional in-person training session for each of the three regions of California:
Southern California – July 28, 2023

Northern California – Aug. 11, 2023 

Central California – Aug. 25, 2023 
The in-person training sessions are not required. But if your transportation allows, we hope you'll come! This is an opportunity to get live feedback on your presentation skills, and to connect with other advocates in your area.