Healthcare for People With Disabilities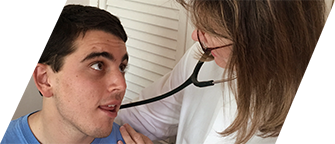 Prepare For Your Medical Care!
Documents to prepare patients with disabilities for medical visits 
Print and keep these documents in a secure place. Fill out any blank forms with relevant information. In the event of a medical emergency or even a routine visit, we encourage you to bring them with you. The information may improve your interactions with healthcare providers.
Printable Version of the Prepare For Your Medical Care Packet
What's In the Packet?
Here are the forms listed individually with a description of their contents.
Tip Sheet for Providers to Support Patients with Intellectual and Developmental Disabilities
The SUPPORT Tip Sheet is a one-page guide to inform healthcare providers on how they can support and accommodate patients with intellectual and developmental disabilities according to their preferences. It includes specific recommendations, identified by self-advocates  and family members, to support patients who use augmentative and alternative communication (AAC).
A healthcare passport tells providers about a patient's unique preferences, needs, and ways of communication in medical situations. It also includes their medical history, allergies, and current medications.
Plain Language Durable Healthcare Power of Attorney
A Durable Healthcare Power of Attorney allows an individual to choose a supporter, called an agent, to help them understand and make decisions for situations in healthcare. The agent may help make all or only certain health care decisions according to the person's expressed wishes. The agent also helps with obtaining informed consent.
Plain Language HIPAA Authorization Form
HIPAA, the Health Insurance Portability and Accountability Act, is a law that protects private medical information. With a HIPAA Authorization Form, a person can give a supporter the right to see their private medical information and discuss their medical care without the person in attendance.
Sample Pain Chart, Picture Board, and Letter Boards
For patients who use augmentative and alternative communication (AAC), we have attached a few sample communication boards that may support communication if customized devices are unavailable. We encourage you to search for assistive visuals that meet your individualized needs.
Contact Information for Supporters
This plain language contact sheet lists up to three supporters, their relationship to the patient, and their contact information in case of emergency.
California All Facilities Letter
The California All Facilities Letter authorizes the presence of a support person during the COVID-19 pandemic for patients with physical, intellectual, and/or developmental disabilities, and patients with cognitive impairments. Most healthcare providers are informed about this update to visitor guidelines, but we recommend bringing this document with you in case any issues arise.
Supported Decision-Making Agreement
A Supported Decision-Making (SDM) Agreement identifies chosen supporters in the areas a person may want assistance, such as in health care decision-making. Uniquely tailored to the person, the SDM Agreement can be attached to legal documents, like powers of attorney, advanced medical directives and HIPAA authorization forms.
Personal Documents
We recommend that you also include a photocopy of the front and back of all insurance cards, identification cards, and driver's licenses. In addition, include any other personal documents that are critical to your care. For instance, you may want to add a mental health advance directive or living will.