Disability Voices United is a
statewide organization directed
by and for individuals with
developmental disabilities and
our families, advocating for
• Choice and control
• Equity and accountability
• Meaningful outcomes
Disability Voices United is a
statewide organization directed
by and for individuals with
developmental disabilities and
our families, advocating for
• Choice and control
• Equity and accountability
• Meaningful outcomes
Disability Voices United is a
statewide organization directed
by and for individuals with
developmental disabilities and
our families, advocating for
• Choice and control
• Equity and accountability
• Meaningful outcomes
Disability Voices United is a
statewide organization directed
by and for individuals with
developmental disabilities and
our families, advocating for
• Choice and control
• Equity and accountability
• Meaningful outcomes
Disability Voices United is a
statewide organization directed
by and for individuals with
developmental disabilities and
our families, advocating for
• Choice and control
• Equity and accountability
• Meaningful outcomes
Disability Voices United is a
statewide organization directed
by and for individuals with
developmental disabilities and
our families, advocating for
• Choice and control
• Equity and accountability
• Meaningful outcomes
Disability Voices United is a
statewide organization directed
by and for individuals with
developmental disabilities and
our families, advocating for
• Choice and control
• Equity and accountability
• Meaningful outcomes
Disability Voices United is a
statewide organization directed
by and for individuals with
developmental disabilities and
our families, advocating for
• Choice and control
• Equity and accountability
• Meaningful outcomes
Resources on Coronavirus

Disability Voices United has been a leader in advocating for people with disabilities during the coronavirus pandemic. Click here to see our coronavirus resources website, including plain language resources and health passports, and information on regional centers, congregate settings, education, self-care, and civil rights. It also contains recordings of the many webinars we have conducted.
Upcoming Events and Trainings
August 27, 2020
2:00 – 4:00 pm
Webinar Series
via Zoom
Words Matter: How Politicians Talk About Race and Disability
September 2, 2020
4:30 – 6:00 pm
SDP Connect
via Zoom
Topic this week: To be determined
September 16, 2020
4:30 – 6:00 pm
SDP Connect
via Zoom
Topic this week: Fair Hearings in the Self-Determination Program
Take Action
Drastic Proposed Cuts to Developmental Services
The California budget may face drastic cuts to developmental services in the coming months. These terrible cuts can be avoided if the U.S. Congress passes the Health and Economic Recovery Omnibus Solutions (HEROES) Act. Click below to find out how to contact your Senators and urge them to pass the HEROES Act.
SDP Connect
Wednesdays, 4:30-5:30pm via Zoom
A weekly information-sharing Zoom meeting for Self-Determination Program participants from everywhere in California, family members, regional center staff, service providers, and anyone else who is interested in moving the SDP forward! The first 15-20 minutes will be a presentation on a different topic followed by questions and answers from attendees at the meeting.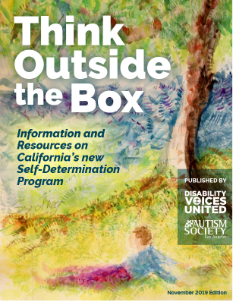 Information and resources on how to move forward in the California's Self-Determination Program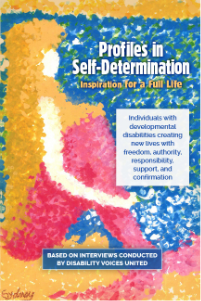 Ten children and adults who imagine their lives under Self-Determination

A place for the developmental disabilities community to exchange ideas, information, and resources

Resources on the the Self-Determination Program in California., news related to the program, and forums to connect with others in the community. The Self-Determination Interchange is available in both English and Spanish.


Focuses on the human right to communication access. This website has plain language legal resources from Disability Rights California, news, advocacy opportunities, and forums to connect with others interested in communication access.
Donate to DVU
Disability Voices United needs your support to continue our important work to advocate for the rights of people with developmental and other disabilities. With virtually no overhead, every dollar you give goes straight to our programs, trainings, and advocacy for choice, equity, accountability, and meaningful outcomes.

Join Our Mailing List
Stay informed on Disability Voices United's mailing list. Get emails about upcoming advocacy efforts, webinars, trainings, events, publications, and more!