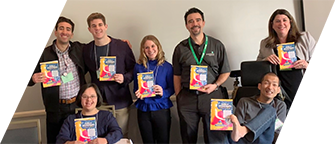 Please be aware: 
We are currently updating our book, "Thinking outside the Box", to release a new, December 2022 edition. If you purchase your book now, you will be the first to receive our newest edition once it is released! 
When you purchase a book from Disability Voices United, you are purchasing directly from DVU, not from an online bookseller that fulfills orders for us. Please allow up to 3 weeks for delivery.
A guide for participants, families, and professionals that profiles ten children and adults who imagine their lives under Self-Determination. It also tells the story of participants in the pilot project and how self-determination has enhanced their lives.
$15, including tax and shipping
A guide to California's Self-Determination Program. This "manual" was last updated in 2022. It discusses all parts of the SDP, from person-centered planning to budgets and more.
$25, including tax and shipping