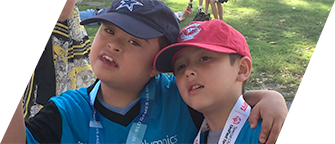 Compared to non-Latino whites, Latinos receive 41% the services, Asians receive about 50% less, and African-Americans receive about one-third fewer services. Racial disparities have worsened at almost all regional centers
Racial and Ethnic Disparities
It is well documented that Latino, African-American, and Asian students and regional center clients suffer from great disparities in education and services. Overall, there is often a profound lack of trust by these communities toward their school districts and regional centers.
In education, there are often distinct differences in the type of education that individuals with developmental disabilities receive based on race and ethnicity. Studies have found that African-American and Latino students are more likely to be placed in disability-segregated classrooms than non-Latino whites. African-American students are more likely to be labeled "emotionally disturbed" than students of other races, often a misdiagnosis for a developmental disability. Moreover, cultural differences make it more unlikely that Latino and Asian parents will challenge school districts.
Regional centers are now required to publicly post data on the level of services that their clients receive, and that information has made clear what families have known for decades.
Compared to non-Latino whites, Latinos receive less than half the services, Asians receive about 40% less, and African-Americans receive about one-third fewer services.
Hispanics have the lowest expenditures per person of major ethnic groups, even though they are the largest served by regional centers.
Regardless of where the individual lives – either at home with their family, in a group home or residential facility, or on their own with support – whites receive more services than Latinos or African-Americans.
Many families of color express common themes of being underserved: they do not know all of the available services; the regional center excessively delays providing an answer for requested services; and they feel intimidated if their child is turned down for services, and are discouraged from going through due process.
Beginning in 2017, the California legislature has appropriated $11 million per year to fund projects to reduce and eventually eradicate racial and ethnic disparities. Yet each year the data show that disparities are actually getting worse. Disability Voices United produces annual reports on disparities that can be found on this website.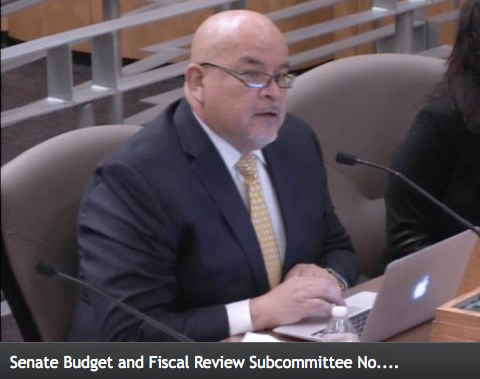 DVU Vice President Fernando Gomez testifies before a Senate committee about racial and ethnic disparities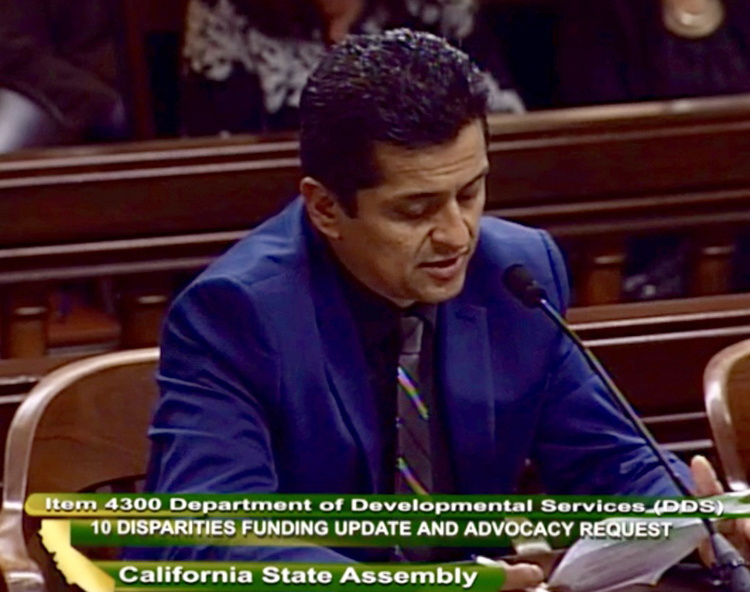 DVU Ambassador Abner Antunes testifies about disparities before the California Assembly Budget Committee
Reports on Racial and Ethnic Disparities
Disability Voices United has written four reports on racial and ethnic disparities in regional center services. The reports focus on the levels and causes of the unequal treatment of people of color, and our recommendations for eradicating disparities. DVU board members and Ambassadors have delivered these reports through testimony provided to the California state legislature. We continue our advocacy around these efforts.
Unfortunately, racial and ethnic disparities have not vastly improved in the time we have been monitoring them, as our most recent report reveals.
"The 2022 Disability Voices United report paints a disturbing picture of systemic discrimination throughout California, despite numerous programs and $66 million spent to reduce chronic inequities," said Judy Mark, Disability Voices United President, and mother of a son with autism. "In a state that claims to be as progressive and multi-cultural as California, people with developmental disabilities receive radically different levels of services depending on their race, ethnicity, or the region where they live. Our government cannot continue to allow this discrimination to continue."
The new data show disparities are most glaring in Latino communities, where adults can receive as little as 43 cents for every dollar spent on services for white adults. Geography also plays a role. For example: a white adult in Golden Gate Regional Center (San Francisco) gets an average of $85,295 in services annually versus Latino adults at Inland Regional Center (San Bernardino) who receive $19,813 and Asians at Central Valley Regional Center (Fresno) who get only $17,299 in average annual services.
"As parents and advocates, we know that a day that goes by without services for our children is a day that can never be replaced. We need to see that same level of urgency from all of the 21 regional centers," said Fernando Gomez, co-founder of the Integrated Community Collaborative and father of a teenage son with developmental disabilities.  "We're tired of excuses and our children can't afford to wait.  We can't leave behind another generation of Latinos because the State allows inequities to plague our regional center system."
The new Disability Voices United report is entitled "A Matter of Race and Place: Racial and Geographic Disparities Within California's Regional Centers Serving Adults with Developmental Disabilities."  It looks at service funding levels at regional centers across California and includes detailed analysis based on race, ethnicity and geography.  The DVU report follows a study released earlier this year by Public Counsel focusing on children of color with developmental disabilities, called "Examining Racial and Ethnic Inequities Among Children Served Under California's Developmental Services System: Where Things Currently Stand." The Public Counsel report also found that inequitable funding remains deeply rooted and is worsening between Hispanic and white children at most regional centers.
"Sadly, California's regional center system still operates haphazardly with wild inconsistencies in funding," said Brian Capra, senior staff attorney with Public Counsel and author of the report. "DDS continues to use a convoluted funding formula that gives unequal resources to different regional centers and employs a laissez-faire approach to service delivery that allows inequities to fester. Tragically, our most disadvantaged families continue to get the least amount of support."
The reports include a list of recommendations to end disparities,  including more regional center oversight, transparency and monitoring.  They also recommend targeting funding that is tied to accountability and results
Our partner, Public Counsel, has issued an important report on racial and ethnic disparities:
Geographic Disparities
Ethnicity and race are just one part of the disparity picture – where you live and what regional center and school district you are part of often dictate the quality of education and services you receive. The side of the street you live on should not determine your ability to meet your goals and make progress in your life.
Variances in the ability of school districts to respond to the needs of its special education students are well-known. The Los Angeles Unified School District's special education system, the largest in California, was under a court-ordered consent decree for over two decades because of serious deficiencies in its program. Certain school districts are much more likely to segregate students with developmental disabilities in special classes and campuses. Commitment to special education and accountability for their programs also vary widely depending upon the district.
Regional centers are just as variable in the level and quality of services and supports they provide. There are examples of regional centers, whose clients are separated by just a block, that provide widely different levels of services. As parents compare the services their child receives based on their regional center, it becomes apparent that the system is unfair to many individuals. Moreover, there are significant differences in the ways that service coordinators or other regional center staff treat clients and families. For example, families from certain regional centers report that their phone calls to service coordinators are not returned in a timely manner, while clients of other regional centers do not report this issue. These differences are not just anecdotal, but they are referenced in publicly available data and surveys by the National Core Indicators.
These racial and geographic disparities are confounding because, even though regional centers are locally controlled, they are part of a statewide system and are supposed to follow the same law – the Lanterman Act. This law provides for a set of services to which individuals with developmental disabilities are entitled. A regional center should not be able to strip an entire community of their right to a service.