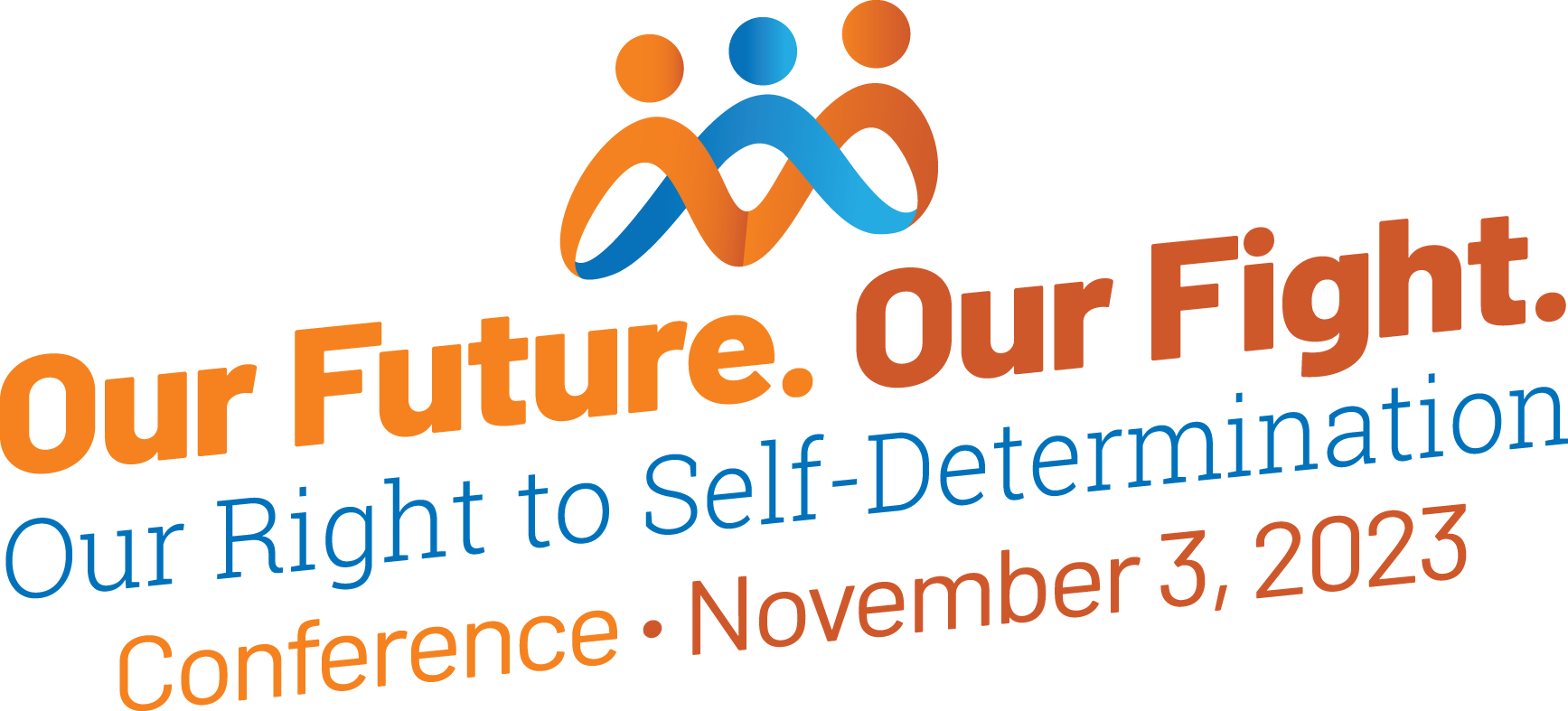 We need your support!
Help Sponsor this Conference

Disability Voices United, the organization founded by the self-advocates and family members who passed the self-determination law, is excited to announce the "Our Future. Our Fight. Our Right to Self-Determination Conference," a statewide virtual conference on California's Self-Determination Program. It will take place on Friday, November 3, 2023 from 8:30 am to 4 pm Pacific Time. Our leaders have planned six previous in-person SDP conferences. Last year we had over 800 registrants and in 2021, we had over 1,400 attendees.
What distinguishes this conference from our previous conferences?
Our vision this year is even bigger and bolder. This conference will empower our communities to fight for their right to the Self-Determination Program (SDP). We hope you'll join us for a day of discussion and advocacy around the SDP. We'll learn about how the program can help us build a better future for ourselves and all people with disabilities and advocate together to break down the barriers to participation. This conference will build individual connections between participants, families, independent facilitators, FMSs, service providers, and regional centers while shaping a larger movement to ensure our right to a Self-Determination Program that works for us.
The conference will take place on a cutting-edge platform called Whova, which will allow attendees to experience as close to an in-person conference as possible. Whova enables attendees to listen to and interact with speakers and panels, network with others, and meet with sponsors and exhibitors in our virtual Expo.
We need you!
Using this amazing platform, however, is quite costly. And so is our commitment to making our conferences accessible to all who require interpretation in multiple languages and ASL. We also seek to offer scholarships for those who can't get regional center funding for the conference. Finally, any proceeds from this conference will go to DVU's continuing advocacy to make the Self-Determination Program successful.
This is why we are turning to you for your support for the conference. We hope that you will consider becoming one of our conference sponsors. Whova provides a number of unique opportunities to feature event sponsors, which are explained below.
Sponsorship opportunities:

Freedom Level – $25,000
The opportunity to briefly address the entire conference at the opening plenary
The opportunity to speak on two of the conference breakout session panels
Your company/organization's logo rotating on the conference homepage, agenda, web app, and all participant profile pages, and before plenary sessions begin
Highlighted sponsorship status, which will feature your organization, a link to your website, and information about your work on a separate page reserved only for the highest sponsors
A virtual "table" at the online Expo with additional "highlighted sponsor" features, with the ability to set up meetings with conference attendees and host virtual meet-up sessions;
Promotion of your organization on all conference promotional emails and materials, as well as DVU's monthly newsletters in the lead-up to the conference
Promotional video shown before plenary session begins as attendees enter the session 8. Promotional video via YouTube on your sponsor page
Promotion at a future SDP Connect, DVU's bimonthly statewide meeting attended by over 200 SDP participants, families, and professionals
Ten (10) individual registrations to the conference

Authority Level – $15,000
The opportunity to briefly address the entire conference at the closing plenary
The opportunity to speak on two of the conference breakout session panels
Your company/organization's logo rotating on the conference homepage, agenda, web app, and all participant profile pages, and before plenary sessions begin 4. Highlighted sponsorship status, which will feature your organization, a link to your website, and information about your work on a separate page reserved only for the highest sponsors
A virtual "table" at the online Expo with additional "highlighted sponsor" features, with the ability to set up meetings with conference attendees and host virtual meet-up sessions
Promotion of your organization on all conference promotional emails and materials, DVU's monthly newsletters in the lead-up to the conference
Promotional video via YouTube on your sponsor page
Promotion at a future SDP Connect, DVU's bimonthly statewide meeting attended by over 200 SDP participants, families, and professionals
Eight (8) individual registrations to the conference

Support Level – $10,000
The opportunity to speak on two of the conference breakout session panels
Your company/organization's logo rotating on the conference homepage, agenda, web app, and all participant profile pages, and before plenary sessions begin 3. Highlighted sponsorship status, which will feature your organization, a link to your website, and information about your work on a separate page reserved only for the highest sponsors
A virtual "table" at the online Expo with additional "highlighted sponsor" features, with the ability to set up meetings with conference attendees and host virtual meet-up sessions
Promotion of your organization on all conference promotional emails and materials, as well as DVU's monthly newsletters, in the lead-up to the conference
Promotional video via YouTube on your sponsor page
Six (6) individual registrations to the conference

Responsibility Level – $5,000
The opportunity to speak on one of the conference breakout session panels
Your company/organization's logo rotating on the conference homepage, agenda, web app, and before plenary sessions begin
A virtual "table" at the online Expo with additional "highlighted sponsor" features, with the ability to set up meetings with conference attendees and host virtual meet-up sessions
Promotion of your organization on all conference promotional emails and materials, as well as DVU's monthly newsletters, in the lead-up to the conference
Promotional video via YouTube on your sponsor page
Four (4) individual registrations to the conference

Confirmation Level – $2,500
The opportunity to speak on one of the conference breakout session panels
Your company/organization's logo rotating on the conference homepage, web app, and before plenary sessions begin
A virtual "table" at the online Expo with the ability to set up meetings with conference attendees and host virtual meet-up sessions
Promotion of your organization on all conference promotional emails and materials, as well as DVU's monthly newsletters, in the lead-up to the conference
Two (2) individual registrations to the conference