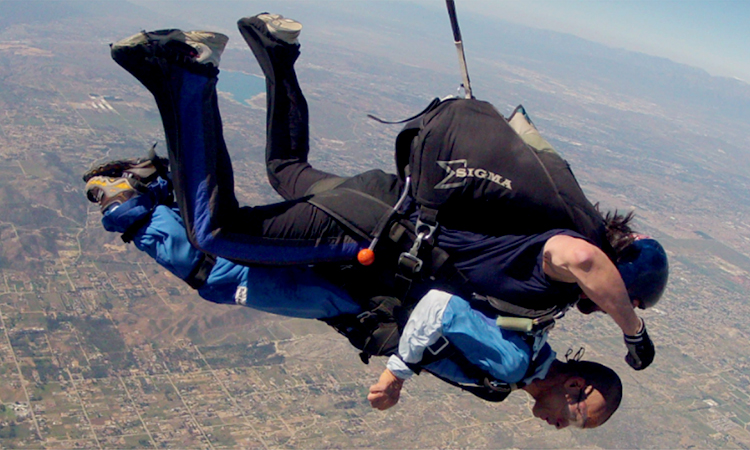 A Self-Advocate, Orange County, CA
I have Cerebral Palsy and I type with my toes.   I have always been good at self-advocacy. 
I graduated from college, work, and have been living on my own with supported living for almost 15 years and I'm officially in my fourth decade, plus two years.  I'm 42 for those who are not good with math.
Self-advocacy has always been apart of my life.  You name it, I've probably advocated for what I needed. When I was growing up, my parents treated me the same as my two brothers.  They always told me that nothing was impossible.  Sure, they did not hand me a knife to cut bread, but pretty much, nothing was impossible.
I have always wanted to go skydiving.  A few years ago, I finally set my mind to jump out of a plane.  My doctor signed off and saw no problem at all.  For many months, I had been talking to a skydiving place out in Lake Elsinore.  We finally set a date on my 39th birthday.  I was super stoked. When I got to the place and maybe I was too excited, but my CP had a lot of movement.  I met with the head instructor and he denied me the opportunity to jump.  I was pissed off like no other.  It was such a waste of time.  He gave me a skydiving shirt and told me that I was brave.  Whatever.
I could had given up and let this go, but not me.  I rarely give up and not try again.  A month later, I jumped out of a perfectly good plane and lived to tell you about it.  I never gave up.  I found another skydiving place in Lake Perris that could handle my disability and as soon as I got into the door, there was no question that I would be jumping out into the sky and falling down.
My friends asked if my mom and dad knew about it before, and the answer is NO!!!  They found out after I showed them the video.