We Want our Children to Have More Choices: Abner's story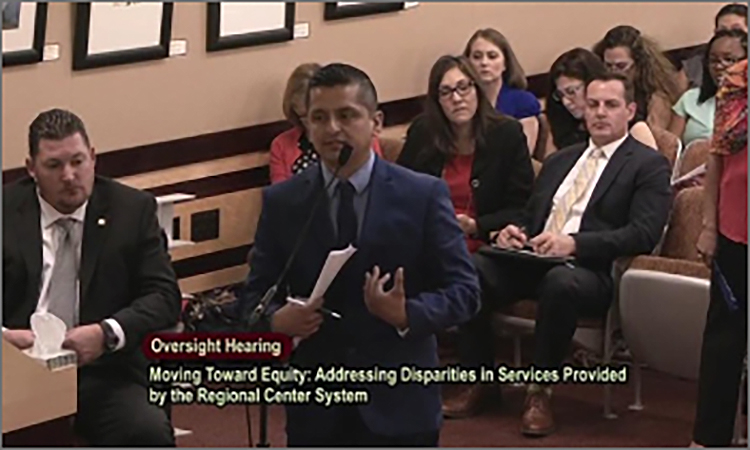 Excerpts from Testimony of Abner Antunez, parent before the California Senate Human Services Committee Hearing on Moving Toward Equity: Addressing Disparities In Services Provided by the Regional Center System March 14, 2017
My 9-year old son, Abner, Jr, was diagnosed with autism at the age of 2 ½ and became a client of South Central Los Angeles Regional Center. We were told at the time that the regional center was the "light." We blindly believed that they would have the answers.
From the very beginning, instead of being supportive and helpful, they were intimidating and blocked our every request. We asked many times by phone, by email and in person for different therapies for our son. But we couldn't get an answer. We waited a year and a half. You may know that early intervention is critical for children with autism and other disabilities. Every day you wait for services puts your child another day behind.
The most common tactic at the regional centers is to not respond to our requests. Mostly, they don't call us back or return our emails. Or they say they are "working on it." We don't usually get denied a service. And if we finally do get denied, the regional centers know that we can't afford to go to due process.
Another major problem is my community feels intimidated by the regional center staff. We are parents who are devastated by the diagnosis of our child. But the regional center knows that some of us are low-income, don't speak English well, and lack formal education. And then we face people with Masters and PhDs, and they use their position against us.
While many of the regional center staff are very nice, we find too many who treat us in a condescending or disrespectful way. One parent said that the psychologist who came to evaluate her son took only 15 minutes with him, and at one point during that time, posted something on Facebook. Another parent said her service coordinator told her that he "can't trust parents because many parents lie."
Some regional center employees, whose salaries are paid by taxpayer dollars, act like they are doing us a favor when they help us. They say, "We are just human. Please be patient." But my son is human and we can't wait any longer.
Who is holding the regional centers accountable? There seems to be no one to grade them. Their leaders know the system. They know that no one is going to question them. The only one who would question them is DDS and they always seem to give them a passing grade.
Many Latino families may actually feel like they are being helped by their regional centers because they don't know better. It's like we are starving and they give us a little piece of candy and we think we are being helped. But we haven't been given the whole menu. We don't know what else there could be. We have to find out about things ourselves. Nothing is provided unless we ask. Even then it is a battle.
We want to be in control. We want our children to have more choices – choices that are familiar to our culture and also in our community. Many of us are pushing for the self-determination law to take effect because we know this means that we will have more control and regional centers can't keep saying "no" to us.
But Senators, we cannot do this alone. Please help us by holding the regional centers accountable. Give the parents more respect and control. Give us the power that right now belongs only to the highly paid executives at the regional centers. They may have PhDs in their fields, but we have PhDs in our children.