Emerging Leaders Program
Would you like to

hold systems accountable

that are supposed to support individuals with disabilities?
Would you like to

become an effective member

of a statewide task force, board or committee?
Would you like to

break down systemic barriers

to services for underserved children and adults with disabilities, particularly for people of color and people who are non-speaking?
Would you like to become involved in the future direction of disability policy in your community and state?
If so, the Emerging Leaders Program is for you!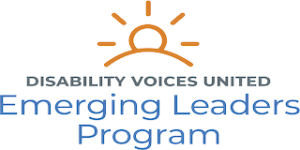 What is the Emerging Leaders Program?
The Emerging Leaders Program is a five-part training program that gives self-advocates with disabilities and family-advocates the skills needed to take leadership positions in their communities and state and to advocate for systemic change.
Who is this for?
Self-advocates/People with disabilities in California

Family members of people with disabilities in California
When and where:
Via zoom

You must be able to attend all five of the sessions, which take place from 4:30 pm – 6:30 pm on Thursdays: May 11, May 18, May 25, June 1, and June 8
How to apply:
Applications are open from March 1 – March 31, 2023

Scroll down to apply
Want more information?
Attend our informational meeting!
When: Thursday, March 16, 2023 5:00-6:00 PM Pacific Time

Where: Zoom meeting – Register Here

Spanish interpretation and captioning will be available
Trainings will include sessions on: 
Using your story to advocate for systemic change

Telling your story in one minute

Learn about history of disability and how it impacts California legislation

How to advocate for better equity, outcomes, and self-determination

Understanding the role of serving on the board of or committee in the disability community

How to use social media for advocacy

Ways to build a network with others in your community or state

And lots more!
Qualifications:
You must be a person with a disability living in California or

You must be a family member of a person with a disability living in California.

You must commit to attending all five sessions.
Training sessions will be led by experts and exciting guest speakers from the disability community. The two-hour sessions will be filled with interactive and helpful tips that will help guide your leadership goals. You will be given fun and exciting assignments to prepare you for each training!
After the training sessions, participants may be matched with an experienced leader mentor to help answer questions and guide you. The support for you to become a leader will continue beyond the five training sessions with monthly meetings.
All of the trainings and support are provided free of charge and funded through the generous support of California's Department of Developmental Services and the Disability Inclusion Fund of Borealis Philanthropy.
Applications are now being accepted 
Participants will be selected through an application process. 
Please feel free to share this with other self-advocates or family members who might be interested!
Applications are due by March 31, 2023. 
We will be reviewing the applications as they come in, so we encourage you to turn them in early! We will email you to confirm if you have been accepted as soon as the decisions are made, but no later than April 7.
Follow us on social media for updates!




#DisabilityVoicesUnited
#DVU
#EmergingLeadersCA